Patricia Ann Vining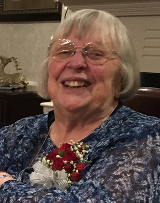 Patricia Ann (Walker) Vining of Braintree, beloved wife of the late John F. Vining III, died January 23rd at Sunrise of Braintree, surrounded by family and under the excellent care of Old Colony Hospice.
Patricia was born on January 10, 1933 in Boston, where she spent most of her childhood.  She graduated in 1955 from the Massachusetts General Hospital School of Nursing, and carried her nursing skills with her as John's work brought their growing family around the country and the world.  Her professional career included several areas of nursing including many years in geriatrics. She proudly stated that as a graduate of MGH, the only question she was ever asked was "When can you start?"
Patricia was devoted to her family–first her children, then grandchildren and great-grandchildren, as well as her extended family and the many friends who became family.  She genuinely loved people with a warmth and enthusiasm that drew them to her.  She supported her children's athletics, and her beloved Red Sox, with similar fervor, pride and ownership. She was very athletic in her youth, and played softball and bowled as an adult. In sports and in cards she played to win. She loved travel and new places, which is fortunate as she moved more than 30 times in her life. But Boston was always home.
She is survived by her children: Christopher Vining of CT, Eric Vining of NC, Peter Vining of PA, Victorine Muse, M.D., of Milton, Timothy Vining of Waltham, Thomas Vining of Westford, and Valerie Salmons, M.D., of PA, and their spouses; 19 grandchildren and 3 great-grandchildren; sisters Barbara Fulp of VA and Joan Fede of FL; many cousins, nieces and nephews; and beloved friends around the country and in Ireland.
In addition to her husband, she was preceded in death by her brother, Daniel Walker, and her dear cousin Norma King, among other beloved cousins.
The family will receive friends and family at the Dolan Funeral Home, 1140 Washington St., DORCHESTER LOWER MILLS, Sunday, January 27, 4-6 pm. A Mass of Christian Burial will be celebrated Monday, January 28, at Saint Agatha Church, MILTON, at 10:30 am. Interment Blue Hill Cemetery, BRAINTREE.
In lieu of flowers, donations in Patricia's memory may be made to the Red Sox Home Base Program, benefiting veterans and their families, 125 Nashua Street, Suite 540, Boston, MA 02114.