Garland White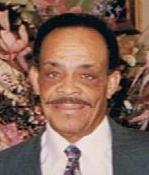 Garland White Jr., 88, of West Roxbury, MA died peacefully on January 2, 2019 in Newton, MA.
Garland White Jr., was born in Grady Arkansas, son of late Durcilla and Garland White Sr.
Though he was born in Arkansas, he devoted his life's work to driving trucks in the city of Boston.  During his free time, Garland enjoyed going fishing and waking in the local parks, and could often be found eating corn muffins (his Favorite).
Anyone who knew Garland is aware of how passionate he was about the importance of hard work, dedication, and consideration for the wellbeing of loved ones.
He will be forever loved by his children Earl White, Donna M. White, Wanda Hendrix, Linda White, Melvin White, Harold White, Cynthia White and their spouses, by his 15 grandchildren, numerous great-grandchildren and great-great-great grandchildren, his siblings Marshall White, Lenora Johnson, Mildred Stuart, Edward White, Juanita White, Evelyn Bradford, Dorothy Evans, Cozia Nicholson, Shirley Taylor, Rosie White and their spouses, former wife Catherine White.  Predeceased by his wife Odessa White, his daughter Rubie J White, and his brother JD White.
A Celebration of Life Service with be celebrated at Dolan Funeral Home, 1140 Washington Street, DORCHESTER LOWER MILLS, Thursday, January 10th at 11:30 AM.  Family and friends invited.  Visiting hours with be held from 9:30-11:30 AM before the service.
In lieu of flowers, donations to the American Heart Association in remembrance of Garland White Jr. will be accepted.  Please mail the donation to: American Heart Association, PO Box 417005, Boston, MA 02241-7005.