Fr. Myron McCormick OFM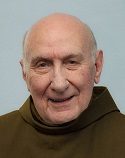 Fr. Myron McCormick, OFM, 98, a professed Franciscan friar for 71 years and a priest for 66, died on Jan. 21 at Holy Name Friary, Ringwood, NJ.
A wake service is planned for 4 p.m. on Thursday January 24 at Holy Name Friary at 2 Morris Rd. in Ringwood. A Mass of the Resurrection will be celebrated at 10 a.m. on Friday January 25 at St. Anthony Church, 65 Bartholdi Ave., Butler, NJ. Provincial Minister Fr. Kevin Mullen, OFM, will preside.
On Saturday January 26, funeral services will take place in Boston, where Fr. McCormick lived for many years. A viewing will be held from 8:30 to 9:15 a.m. at St. Anthony Shrine, 100 Arch St., where a Mass of Christian Burial will be celebrated by Fr. Frank Sevola, OFM, guardian, at 9:30 a.m. He will be buried at St. Joseph Cemetery in West Roxbury, Massachusetts.
Early Years
Fr. McCormick was born on June 26, 1920, in Philadelphia to John and Mary (nee O'Neil) and baptized John Joseph. He attended West Catholic School for Boys in Philadelphia and the University of Pennsylvania's Wharton School of Finance before going to St. Joseph Seraphic Seminary in Callicoon, N.Y. He was received into the Order of Friars Minor on Aug. 12, 1946 in Paterson, N.J., where he professed his first vows as a Franciscan one year later.
He made his solemn profession on Sept. 17, 1950, at the Franciscan Monastery of the Holy Land in Washington, D.C., and was ordained to the priesthood on June 28, 1952 in Washington. In 1954, Fr. McCormick earned a master's degree in classical languages from St. Bonaventure University in Allegany, N.Y.
Ministry
His first assignment was to Bishop Timon High School in Buffalo, N.Y., where he taught for six years before moving to Olean, N.Y., where he served as assistant principal and teacher at Bishop Walsh High School from 1959 to 1960. Fr. McCormick then returned to St. Joseph Seraphic Seminary for eight years, holding various positions including dean, registrar and vice rector. In 1968, he moved to Silver Spring, Md., to serve as registrar for the Washington Theological Coalition.
Two years later, Fr. McCormick was appointed director of pilgrimages at St. Anthony Shrine in Boston. He worked in this capacity for one year before serving briefly as assistant pastor of St. Francis Parish in Wanaque, N.J. After the Callicoon seminary closed in 1972, Fr. McCormick returned to the campus to oversee the buildings and grounds until the property was sold. He went back to St. Anthony Shrine in Boston, serving as an assistant for two years until he moved to St. Francis Chapel in the Prudential Center in Boston.
In 1981, Fr. McCormick left Boston for Croghan, N.Y, where he served as pastor of St. Stephen of Hungary Parish for one year. After expressing interest in ministering to the sick and retired friars, Fr. McCormick was assigned to St. Anthony Friary in St. Petersburg, Fla. He worked there for three years before he moved north to serve as pastor of St. Joseph's Parish in Wilkes-Barre, Pa. In 1990, Fr. McCormick returned to St. Anthony Shrine in Boston, where he remained for 24 years until he retired in 2014 to the Province's skilled nursing facility in Ringwood.
Memorial donations may be sent to Franciscan Friars – Holy Name Province, 144 West 32nd Street, New York, NY 10001-3202.