Stephen P. Coveney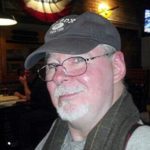 Stephen P. Coveney, 67, of Quincy passed away on Thursday, November 29, 2018.
Beloved son of Marylou C. (Jones) Coveney of Hyde Park and the late Philip Coveney. Loving brother of Jack Coveney and his wife Barbara of Princeton, MA, Elaine Coveney and her husband Robert Dynes of Hyde Park, Philip Coveney of North Andover, Michael Coveney of Hyde Park, and Susan Paolucci and her husband Pasquale of West Roxbury. Cherished uncle of 5 nieces, nephews.
A Mass of Christian Burial will be celebrated in Saint Gregory Church, 2223 Dorchester Ave, Dorchester, Friday, December 7, 2018 at 10:30 AM. Relatives and friends invited. Visiting hours on Thursday 4-8 PM in the Dolan Funeral Home, 1140 Washington Street, DORCHESTER LOWER MILLS from4:00-8:00 PM. Interment Cedar Grove Cemetery.