Scott W. Marquis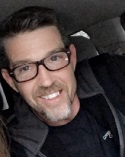 Scott W. Marquis, of Rockland, December 27, 2018.
Husband of Maureen E. Marquis. Loving father of Emily A. Marquis and Cameron S. Marquis, both of Rockland. Son of Pamela Marquis of Marshfield and the late William J. Marquis. Brother of Michelle Roney and her husband Kevin of Easton, Nancy Crowley of Pembroke and Jon Marquis and his wife Holly of Marshfield. Scott is survived by many nieces, nephews and cousins.
Born in Weymouth, Scott graduated from Marshfield High School, Class of 1990. He was the Head Job Supervisor at Congress Flooring of Randolph and a member of Floorcoverers Union Local 2168 for over twenty years. He loved spending time with his children, through their sports and school involvement. He was a baseball and soccer coach and the Marquis family was named 2017 Family of the Year by South Shore Tae Kwon Do. Scott also enjoyed fishing.
A Mass of Christian Burial will be celebrated in Holy Family Church, 403 Union Street, Rockland, Saturday January 5 at 9:00 am. Relatives and friends invited. Visiting hours at Dolan Funeral Home, 460 Granite Avenue, EAST MILTON SQUARE, Friday 5-8 PM.
In lieu of flowers, donations in Scott's memory may be made to the Scott W. Marquis Children's Fund, c/o Rockland Federal Credit Union, 241 Union Street, Rockland, MA 02370.