Pauline L. (Laurent) Loiseau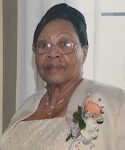 Pauline L. ( Laurent) Loiseau, 87, of Boston passed away on December 15, 2018. Born in Petion-Ville, Haiti to the late Damestoir and Natalie (Jerome) Laurent. She was a caring sister to five other siblings (4 deceased), and still living is Lyla Paul, she also was an aunt to a numerous amount of nieces and nephews. Pauline was the beloved wife of the late Benjamin A. Loiseau, of whom were the parents to Chantal Loiseau and Ralph Loiseau of Dorchester. She was cherished by her grandchildren, Steven Lezin, Jessica Loiseau, Najlah Lezin, and Ralph Loiseau Jr. and great grandchildren, Makai K. Lezin and Ari'Yahu Jean Simon.
 The wake will be on Friday December 21st at the Dolan Funeral Home, 460 Granite Ave, East Milton, from 6-9 P.M. A Mass of Christian Burial will be celebrated at Saint Matthew Church, 33 Stanton Street, Boston, Saturday, December 22nd at 10 A.M. Relatives and friends are invited to attend. The Burial will take place at Forest Hills Cemetery.