Geraldine R. (Keohane) Burns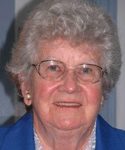 Geraldine R. (Keohane) Burns, 91, of South Boston died peacefully December 5, 2018.
Beloved wife of the late Robert O. Burns.  Loving mother of Ellen Peil of NY, Susan Burns-Tisdale (George Tisdale) of Concord, MA, Margaret Burns (John Godsmen) of NH, Sarah Rios (Richard) of NY, John (Kathleen) Burns of Braintree, MA and Robert O. Burns of Taunton, MA.  Survived by thirteen grandchildren and three great grandsons.  Also survived by her sister Therese Keohane of Weymouth and predeceased by her sisters Margaret O'Donnell, Eleanor Sullivan and Elizabeth Sullivan.
Geraldine was born in Boston and attended Roxbury Memorial High School.  She is a 1950 graduate of Carney Hospital School of Nursing.  She received her BSN from Curry College in 1983 and her MA from UMass Boston in 1985.  She was a longtime supervisor of nursing for the Long Island Chronic Care Hospital in Boston.  Geraldine was a member of the Castle Island Associates and the Knitting and Quilting Club at the Neighborhood House in South Boston.
A Mass of Christian Burial will be celebrated in Gate of Heaven Church, 615 E. 4th St., South Boston, Monday December 10, 2018 at 9:45 AM.  Relatives and friends invited.  Visiting hours at the Dolan Funeral Home, 460 Granite Avenue, EAST MILTON SQUARE, Sunday from 2-6 PM.  Interment at a later date.
In lieu of flowers, kindly make a memorial donation in Geraldine's name to the: New England Center and Home for Veterans, 17 Court Street, PO Box 845257, Boston, MA 02284-5257.
The family would like to thank Irish Angels Home Care and CareGroup Parmenter Hospice for their care and compassion during this difficult time.