Constance Sullivan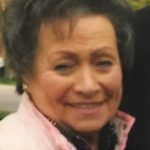 Constance Sullivan, of Dorchester, December 1, 2018.
You likely knew Connie Sullivan, either from her lifelong Dorchester home – St. Mark's growing up, then St. Peter's and St. Brendan's raising her five children – or from her years in Elder Services for the City of Boston, from her many years of volunteer work at My Brother's keeper in Brockton and the Holy Father's Retreat House in Easton, or from any of her many social circles of friendship, dancing, Paulist Center, clubs and committees.  Slight of stature and great of heart, she lived a full life of love and service to God and others.  Connie left us for her heavenly reward on December 1st after suffering a sudden illness, leaving us saddened yet grateful for having known and been loved by her.
She'll be deeply missed by her cherished children Jimmy, Meg, Sean, Carrie, Maura and their spouses, by her 16 beloved grandchildren, and 2 precious great-grandchildren, also by Tanya, Thanh, and Tania who loving called her their adopted Mom, and by her loving siblings, Theresa, Anna, Jack, Bud, and Frank, and their families, and by countless friends and those whose lives she touched in her 81 years.
Please join us for her Celebration of Life Funeral Mass at St. Agatha Church, 432 Adams Street, Milton, Thursday, December 6 at 10:30 AM.  Rite of Christian Burial following Mass at Cedar Grove Cemetery in Dorchester.  Relatives and friends are invited to Dolan Funeral Home, 460 Granite Avenue, EAST MILTON SQUARE, Wednesday 3-8pm and Thursday 9:30 AM.
Connie would thank you for your kind donations of remembrance in lieu of flowers to My Brother's Keeper, Holy Cross Fathers Retreat House or any of your own special causes.