Clara Alexena (Piggott) Cenci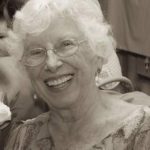 August 27,1936 — December 9, 2018
Clara Alexena Piggott Cenci, 82, of Milton, MA, passed peacefully from this life into the next at home, surrounded by family, on Sunday afternoon, December 9, 2018.
Daughter of George F. and Clara (Dean) Piggott, both of England, Clara was born on August, 27, 1936 in Weymouth, MA and raised in Braintree, MA. The last surviving member of her family of origin, Clara had three older siblings, Irene Frances Morse, Albert Minot Piggott and George Dean Piggott.
A graduate of Braintree High School (1954), Northeastern University and The Forsyth School of Dental Hygiene, the longest continually running dental hygiene program in the country, Clara worked as a dental hygienist for 50 years, the majority of those in the offices of Drs. Carl Catani and John M. Murphy in Milton.
Clara was married to Stephen V. Cenci at St. Agatha Church of Milton in 1976 and they raised two daughters, Cheryl Brady of Manchester, MA and Christina Clausnitzer of Gloucester, MA.
A longtime, deeply devoted member of the East Congregational Church of Milton, United Church of Christ, Clara is believed to have served in practically every lay leadership position available or needed including deacon, treasurer, pastoral search committee member, property chair, Sunday School teacher and gardener. Clara constantly shared her extraordinary gifts of hospitality in the East Church kitchen and Fellowship Hall. Her exceedingly generous (and, at the time, anonymous) gift made the church's latest kitchen renovation possible.
In life, Clara was the devoted spouse of Stephen, loving mother of Cheryl (Zach Brady) and Christina, adoring aunt of Deborah, Linda, Wendy, Claire, Patricia, Robert and Susan, doting grandmother of Dean and Willard Brady and Georgiana Clausnitzer, honorary grandmother of R. Daniel Pomeroy, Major William Pomeroy, Stephen Pomeroy and Kathleen Cogswell, and treasured honorary great grandmother of Breydon, Connor, Shaela, Clara Kate, Jackson, Luke, Elmer and Orion Pomeroy and Maria and Colette Cogswell, all entrusted with keeping and sharing Clara's spirit of love and joy to future generations.
Clara's family is joined in mourning the loss and celebrating the life of this graceful, dignified, generous, kind, strong, beautiful woman by a host of dear friends, including the "Magnificent Seven," longtime neighbors, and the entire congregation of East Church.
Funeral service will be celebrated in East Congregational Church, 610 Adams Street, Milton, Friday at 11:00am. Visiting hours Thursday, 3-7 pm at Dolan Funeral Home, 460 Granite Ave., EAST MILTON.
In lieu of flowers, and at Clara's request, donations in her memory will be gratefully received by East Congregational Church of Milton, UCC, 610 Adams Street, Milton, MA 02186.