Tommie Lee Smith Jr.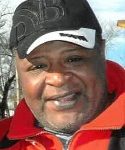 Tommie Lee Smith Jr., of Boston, passed away on Thursday, November 8, 2018.
Beloved son of Tommie Lee Smith Sr. and Daisy (White) Smith. Father of Kendrick Martin, Shenaya Martin-Johnson, Shellice Baker and Tameka Baker. Brother of Robert Smith, Darlene Smith, Geraldine Smith, Laura Williams, Tyrone Smith and Shawn Smith.
Visitation Saturday, November 17 at Dolan Funeral Home, 1140 Washington Street, DORCHESTER LOWER MILLS from 10-11am. The Funeral Service will begin at 11am. Interment at Oak Lawn Cemetery.