Thomas F. Downes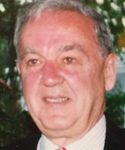 Thomas F. Downes of Milton. Husband of 68 years to Maureen (Mullaly) Downes, died on Sunday, November 11, 2018.
Loving father of Mary Falwell and Warren of Chatham; Stephen and Ann (O'Hara) of Milton; Regis and Shelley (Murphy) of Weymouth; Michael and Catherine (Macdonald) of Easton; Lorraine and Hank McCartin of Providence, RI; Maureen and David Jeffery of Easton; Justine and James Murphy of Bridgewater; Richard of Milton; Tara and Walter O'Leary of Milton; Deirdre and Mark Morris of Edgartown; Moira of Milton. Beloved grandfather of 33 grandchildren; and five great grandchildren. Thomas was born in New York City, one of 10 children of Stephen and Margaret (Lynch) Downes.
He attended Syracuse University before enlisting in the US Army in 1943. He served with the Second Armored Division during WWII and was awarded the Silver Star for gallantry in action in Germany.  During his career, Thomas was Director of Warehousing for Stop & Shop; Vice President of Warehousing for Lechmere; Vice President of Warehousing and Transportation at Marshall's, among other job titles.
Visiting hours Thursday from 4 – 8pm at Dolan Funeral Home, 460 Granite Ave, EAST MILTON SQUARE. A Funeral Mass will be celebrated on Friday, November 16th at 10:30am in St. Agatha Church, 432 Adams St. Milton. Burial in Arlington National Cemetery at a later date.
In lieu of flowers, donations can be made to the Thomas Downes Memorial Scholarship Fund, c/o Blue Hills Bank, 480 Adams St, Milton, MA.