Loretta McLaughlin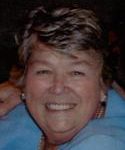 Loretta McLaughlin, former editor of The Boston Globe's editorial page, died on Friday, November 23, 2018.  She was 90. Ms. McLaughlin was a longtime resident of Milton and Frigate Bay, St. Kitts and Nevis. Prior to moving to Milton, she had lived in Braintree for many years.
Ms. McLaughlin had a long career in journalism. She initially was a beat reporter covering Massachusetts politics for the State House News Service and, later, hard news including the 1950 Brinks robbery for The Boston American and the Boston Strangler for The Record American.  In the 1960s, the focus of her reporting shifted to medical news.  After brief service as a science writer for Harvard's Faculty of Arts and Sciences, she became the director of public relations for the Massachusetts Eye & Ear Infirmary. During her time there, she led the capital campaign to build the Infirmary's "new" building, which remains the Infirmary's primary facility.  In  the 1970s, she returned to journalism and joined The Boston Herald American as a medical reporter.  She was later recruited to The Boston Globe where she continued as a medical reporter until  she joined the Globe's editorial page as the deputy editor, subsequently rising to the position of editor of the editorial page.  As a medical reporter, she focused on issues relating to population growth and traveled to Bangladesh and Mexico researching efforts of developing countries to address population issues.  She was an early voice identifying the AIDS epidemic and calling for funding for research and treatment.  On the editorial page she often addressed population growth and AIDS,  and she was an ardent advocate of single-payer national health insurance.  Ms.  McLaughlin wrote The Boston Globe's endorsements of William Weld for governor of Massachusetts, Bill Clinton for president of the United States, and Thomas Menino for mayor of Boston.  Following her retirement from The Boston Globe,  she organized conferences on behalf of Blue Cross/Blue Shield of Massachusetts and continued her advocacy in favor of national health insurance.
Ms. McLaughlin was also the author of John Rock, The Pill and The Church: The Biography of a Revolution.
Both during her career and following her retirement Ms. McLaughlin traveled extensively, including to China, India, the Middle East, Africa and Europe.  She enjoyed entertaining, reading, old movies, her home in St. Kitts, and, in particular, her grandchildren.
Ms. McLaughlin leaves her daughter, Ruth Doyle of Jamaica Plan, her son Mark and his wife Daphne of Milton, her son Neil and his wife Juliana  of Scituate; her grandchildren Philip of Fremont, California, Amelia of Weymouth, and Patrick and Kara of Scituate; and many nieces and nephews. She also leaves a close family friend, Carol Scanlon of Milton.
Ms. McLaughlin was preceded in death by her second husband, James P. Becker and by her siblings John, Sylvester ("DeeDee"), and Margaret.
A Mass of Christian Burial will be celebrated in Saint Agatha Church, 432 Adams Street, Milton, Wednesday, November 28 at 10:30 AM. Relatives and friends invited. Visiting hours on Tuesday November 27, 2018 in the Dolan Funeral Home, 460 Granite Avenue, East Milton from 4-8:00PM. Interment Private.
Memorial donations in Loretta's name can be made to: Massachusetts General Hospital,  https://giving.massgeneral.org or Rosie's Place, http://www.rosiesplace.org/give