James W. Karalekas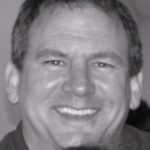 James W. Karalekas of Homewood, IL and Milton, passed away unexpectedly on October 31, 2018 at the age of 53.
Jim was the devoted son of Edwina Karalekas and the late George C. Karalekas.  He is survived by his dear friend Candy Nelis of Homewood, IL. Beloved brother of Charles and Sharon Karalekas of South Elgin, IL, Janet and Rich Poirier of Middleborough, Joanne and Kevin Kelly of Weymouth, Lisa Lynch of Plymouth, and Lee Ann Karalekas of Milton. Best friend and cousin of Peter C. Mourmouras and godfather of Mallory Mourmouras, both of Biddeford, ME. Jim was cherished by his many nieces, nephews, aunts and cousins.  Father of Michael Honrado.
Jim will be remembered for his larger than life personality, witty sense of humor, and his passionate and generous nature.  He was an avid Boston sports fan who enjoyed history and travelling.  Whether it was cooking for a family gathering in Harwich Port or weekends in Maine, Jim was happiest spending time with those he loved, especially his mom, Edwina.
Relatives and friends are invited to celebrated Jim's life at Dolan Funeral Home, 460 Granite Avenue, EAST MILTON SQUARE, Thursday November 8 at 11:00 AM. Relatives and friends invited. Visiting hours at the funeral home Wednesday 4-8 PM. Interment Milton Cemetery.
In lieu of flowers, donations in Jim's memory may be made to the American Heart Association, P.O. Box 417005, Boston, MA  02241-7005 or www.heart.org.