Mary Jeanne Langevin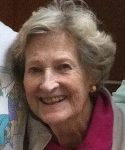 Mary Jeanne Langevin, age 81, of Milton passed away on Wednesday, October 24, 2018. She was born on November 15, 1936 in Lawrence, MA to Thomas and Flora (McLean) Galvin, the youngest of their five children. A graduate of St. Mary's High School in Lawrence, Mary Jeanne met her husband, Rodolphe Eugene "Gene" Langevin, Jr., while the two worked at his father's Rexall Drugstore as teenagers. Mary Jeanne was an avid birder, animal lover, and environmentalist and worked as a volunteer instructor at Blue Hills Trailside Museum for years. She loved reading (often joking she'd read anything, even the back of a cereal box), cooking, playing cribbage and 45s, attending the theatre, listening to NPR, completing the New York Times crossword puzzle daily, watching the Red Sox and Celtics, and spending time with family and friends, especially in two of her favorite places: Salisbury Beach and North Conway, N.H.
Mary Jeanne was preceded in death by her parents and her four siblings, Thomas Galvin, Bartholomew Galvin, S.J., Janice Bowen, and Barbara Galvin. Mary Jeanne is survived by her loving husband of 61 years, Gene, their five children (Pamela and her husband Robert Cattel; Rod Langevin; Kristine Langevin; Eric and his wife Nancy Langevin; and Peter and his wife Traci Langevin), 11 grandchildren, extended family, including her sister-in-law Diane LaRocque and her niece Michelle LaRocque, and chosen family, including Mary Hochman and Steve McLean.
A Mass of Christian Burial will be celebrated on Tuesday at 10:00am in St. Elizabeth Church, 350 Reedsdale Road, Milton.  Relatives and friends invited.  Visiting hours on Monday 4-7PM in the Dolan Funeral Home, 1140 Washington St. Dorchester Lower Mills.  Interment in Milton Cemetery at a later date.  In lieu of flowers, contributions can be made in Mary Jeanne's honor to the Blue Hills Trailside Museum, 1904 Canton Avenue, Milton, MA  02186. For online condolences and directions see www.dolanfuneral.com.