Margaret T. (Donovan) Walsh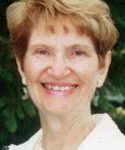 WALSH, Margaret T. (Donovan) "Peg", of Norwood, formerly of Dorchester and Somerville, Oct. 25, beloved wife of the late Richard Walsh.
Peg, also known as Margie, was born in Somerville in 1928. She was the middle child of three girls, raised by her mother, Mary Ellen (Griffin) Donovan after their father passed away at a young age. Their uncle John Griffin was an important adult in her life, as were her grandparents.
Peg graduated from St. Joseph's High School for girls where she was vice-president of her class. She made lifelong friendships there. She loved studying math and worked as a bookkeeper at H.P. Welch Co. in Somerville in her teens and twenties. She was a devoted Roman Catholic who attended Mass daily, often with her mother. She enjoyed the weekly Irish dances in Dudley Square and occasional weekends at the Elms in Goffs Falls, New Hampshire.
Richard (Dick) Walsh met Peg at one of those Irish dances. They married the following year, in 1956, making a home at first in Jamaica Plain, and later, moving into a new house in Dorchester Lower Mills where they lived happily from 1964 to 2004. Peg was a loving mother, a homemaker and an enthusiastic volunteer who chaperoned field trips and tutored children at St. Gregory's Elementary School in Dorchester. She served as a Eucharistic Minister in Church. She brought Holy Communion to people at the Boston Home. She also taught CCD classes and was a member of the Ladies Sodality and the 'One in Christ' Prayer Group. Peg loved living close to church, school, and the grocery store. She walked everywhere. She was known for her chicken dinners with baked potatoes and her delicious Irish soda bread. Peg and Dick organized dances for the parish, especially the annual St. Patrick's Day event, getting the whole family involved.
Peg and Dick traveled to Ireland to celebrate their 30th wedding anniversary, and they returned twice more during their 60 years of marriage. They spent part of every summer at White Horse Beach in Plymouth with their children. siblings, nieces and nephews. Peg loved dancing the Highland Fling and listening to live Irish music, especially songs in her husband's tenor voice. She enjoyed trips with friends to Cape Cod and the Catskills.  Over the years, they traveled as often as they could to see their family locally as well as in Maryland, Florida, and New Hampshire. Peg and Dick were a great couple.
In 2004, they moved to Norwood and joined Saint Catherine of Siena Parish. They enjoyed their grandchildren immensely, and attended school pageants, plays, and performances of all kinds. Peg was an avid reader who also liked Kindle games, Scrabble, and puzzles.
After her husband passed away in 2016, Peg spent almost all of her time with her children and grandchildren. She leaves behind Maureen Walsh David and her husband Steven of Maryland, Richard Walsh and his wife MaryJo of Florida, James Walsh and his wife Diane of Franklin, Kathleen Walsh Heraghty and her husband Michael of Norwood, Edward Walsh and his wife Kelly of Scituate, and Margaret Walsh and her husband John Newman of New Hampshire.
Daughter of the late Mary Ellen and Edward Donovan. Sister of Alice Walsh of Arlington and the late Mary Haggerty. Sister-in-law of Helen McCarthy of Dorchester, Mary Driscoll of Milton, the late Michael Walsh and the late Edward Walsh.
Also, survived by 17 grandchildren: Sarah (and her husband Glenn), Julia (and her husband Andrew) Katie, Richard, Michael, John, James, Meaghan, Julia, Erin, Eamon, Mairead, Rosemarie, Aidan, Molly, Maeve, Cormac, great-grandchild Cyrus, and many nieces and nephews.
A Mass of Christian Burial will be celebrated at St. Gregory's Church, Dorchester, Tuesday October 30 at 10 o'clock. Visiting Hours at the Dolan Funeral Home, 460 Granite Ave, EAST MILTON SQUARE, Monday October 29 from 4-8pm. Internment at St. Joseph Cemetery, West Roxbury. In lieu of flowers, donations in Peg's name may be sent to the Richard and Margaret Walsh Scholarship Endowment, c/o Campaign for Catholic Schools, 66 Brooks Drive, Braintree, MA.  This endowed scholarship will support students at the St. John Paul II Lower Mills campus, the former St. Gregory School, where Peg and Dick's children were educated.