Judith Delaney Murphy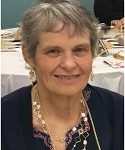 Judith Delaney Murphy, of Yarmouthport, formerly of Milton, died Monday October 22, 2018.
Born in Tewksbury and raised in Milton, Judy was a graduate of St. Gregory High School and Aquinas Junior College. She was an longtime employee of the family automobile business, the former Columbia Pontiac of Dorchester and later was employed by Walgreens Stores, where she enjoyed interacting with many loyal customers.
In her younger years, Judy was an established equestrian. She has been an active participant with both the Yarmouthport and Middleboro Senior Centers and was an avid Bingo player.
Loving mother of Maura Murphy and her husband Harrison Lee of Lakeville, Michael Murphy and his wife Kristy of Melrose and Matthew Murphy of Yarmouthport. Grandmother of Andrew, Jacoby, Isabella, Keegan and Adam. Former wife of Edward Murphy. Daughter of the late David J. and Evelyn (White) Delaney. Sister of the late Kevin White Delaney.
A Mass of Christian Burial will be celebrated in Saint Elizabeth Church, 350 Reedsdale Road, Milton, Friday October 26 at 11:00 AM. Relatives and friends invited. Visiting hour at Dolan Funeral Home, 460 Granite Avenue, EAST MILTON SQUARE, Friday 9:30-10:30 AM. Private interment will follow at Milton Cemetery.