Jeanne Marie Butler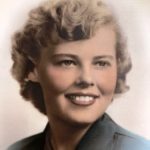 Jeanne Marie (Desmond) Butler,  of Hyde Park. October 28, 2018. Beloved wife of Kenneth C. Butler passed away peacefully, at home with her family. Jeanne was born in South Boston, MA and was the cherished daughter of Thomas and Mary Clarissa Desmond. She was a loving sister to her brother Thomas Desmond and is survived by Thomas' wife Mary Desmond and by her wonderful sister Kathryn Ryan of Arlington.
Jeanne was a graduate of South Boston High School and later went on to a career as a secretary at Boston Gas, a career she was quite proud of. After falling in love with her soul mate, Kenny, at a Boston Gas Company Dance, Jeanne married and devoted her full time to her role as wife and mother – a role she fulfilled with love, beauty, style, and grace for sixty-three years. She is survived by her five children Susan Butler of Florida, Steven Kenneth Butler and his wife Denise of Weymouth, Kenneth C. Butler Jr. of Hyde Park, David Butler of Dedham, and Marybeth Conroy and her husband David of Walpole. She was a proud grandmother and leaves behind her loving legacy in eighteen grandchildren and six great-grandchildren. She was also the favorite aunt of many nieces and nephews. Jeanne was a loving friend, fashion enthusiast, and fantastic conversationalist. She enjoyed several happy years perched on the stoops of Windham Road in Hyde Park surrounded by her many girlfriends. She also leaves behind her dearest girlfriend, Marilyn Powers of Dedham, with whom she shared immeasurable laughs.
Throughout her marriage and especially in her ailing years anyone who witnessed the devotion of her husband Kenny was truly better for it. Their years were marked with love, devotion – and most of all friendship. Kenny will forever be grateful he convinced her to dance.
Jeanne is also survived by her cocker spaniel, Scooch. In lieu of flowers, and to honor her love of Scooch, donations may be made to MSPCA-Angell Attn: Donations, 350 South Huntington Avenue, Boston, MA 02130.
Visitation will be held on Thursday, November 1, 2018 from 4 to 7 PM at Dolan Funeral Home EAST MILTON SQUARE, 460 Granite Ave. A Mass of Christian Burial will be celebrated on Friday, November 2, 2018 at 10:00 am in Sacred Heart Church, 169 Cummins Hwy, Roslindale, MA 02131.