Emmanuel D. Morency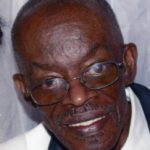 Emmanuel Denis Morency was born in Petite Riviere De L'Artibonite, Haiti to Elise Morency and Dessaix Morency on December 12th, 1947. He attended Petit Seminaire, College St. Martial.  Emmanuel migrated to the United States in 1979.. Emmanuel was known to many as a big hearted individual, hardworking and loving man. He was a man with many talents. His trade of profession was an Agronomist, but his passion become graphic designing,owner of Ema Creations. Emmanuel worked with many different people of various cultures.To those close to him, he was a holistic healer.Emmanuel touched the lives of many. Emmanuel was a proud member of the Respectable Lodge of Les Coeurs Unis #7.
Throughout the years,Emmanuel worked hard to support his family, and accomplished his dreams and aspirations. Emmanuel was a caring and supportive person. Emmanuel will be greatly missed by family and friends.  Emmanuel was married to Mattie M. Morency. He is survived by his daughter Nancy Morency, son-in-law Jean Rubens Cerene and his loving grand- children Coby, Noah,and  Janelle. His many step-children. His siblings, Edna Paul, Mona Morency, Herve Morency, and Marie Merci Salomon.
Emmanuel had many nieces and nephews Wensly, Nemours, Ricardo and Nemline Paul, Widmarc, Lisa Duvalsaint, Rex Chevalier, Yaminah Morency, Guesly Jr., Pamela, Sathina and Claire Salomon, Murielle, Ralph Cadet and Michael Morency.
Visiting hours at the Dolan Funeral Home, 1140 Washington St., DORCHESTER LOWER MILLS, on Friday, October 19 from 5-8PM. A Mass of Christian Burial will be celebrated in Saint Angela Church on Saturday at 10AM. Interment at Oak Lawn Cemetery.