Elizabeth M. Martell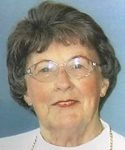 Elizabeth (Marden) Martell, 98, of Bellingham, formerly of Falmouth, passed away on Wednesday, October 3, 2018, at Maples Rehabilitation and Nursing Center in Wrentham with her loving family by her side.
Born in Boston, MA on January 7, 1920, she was the daughter of the late Ralph A. Marden and the late Lena C. (Gale) Marden. She was the beloved wife of the late Louis A. Martell and the loving mother of the late Peter M. Martell of Oak Bluffs, MA and the late Ralph A. Martell of Bellingham, MA. She was predeceased by her brother, Ralph A. Marden, Jr.
She leaves her devoted daughter in law, Lynda V. Martell of Bellingham, and her cherished grandchildren, Amy E. Bourgeault and her husband, Mark of Woonsocket, RI, Sara M. Birt and her husband, Allen of South Kingston, RI, and Kevin D. Martell of New Bedford, MA. She also leaves 5 great-grandchildren, Rebecca L. Bourgeault, Michael M. Martell, Collin M. Birt, Nichole R. Birt and Ryan W. Martell. She was predeceased by a great-granddaughter, Jenna E. Bourgeault.
Betty was a former resident of Natick, MA and Falmouth, MA. She worked at Red Coach Grill restaurants in Framingham and Hyannis until her retirement. She was an avid gardener with many awards from the Barnstable County Fair. For 40 years she volunteered at Falmouth Hospital for the blood bank and X-ray department. She also was a member of the Great Harbors Women's Club and the Red Hat Society.
Devoted to her family and a dear friend and neighbor to many, she will be greatly missed.
Graveside services will be held at Milton Cemetery, 211 Center St., Milton, MA, on Friday, October 5 at 1:30 PM.