Thomas E. Leen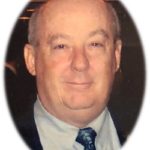 Thomas E. Leen, age 77, of Quincy, passed away after a long illness on September 28, 2018.
Beloved Fiancé of Kathleen Kyer of Bridgewater. Loving father of Rose Slayter and her husband the late Robert Slayter of Plymouth, Betsy and her husband John Beaton, Jr., of Plymouth, Anne and her husband Steven Smith of Milton and their mother Rose Fitzgerald. Proud "Papa" of Kiley and Tommy Slayter, Ryan and Jack Beaton and Griffin and Lauren Smith. Tom also leaves Kathleen's daughter Alison, and her husband Christopher Burns and their children Caileen, Francis and Caroline. Brother of William Leen, John Leen, Mary Vera and the late Henry Leen, Jr..
Tom worked for Boston Edison before retiring in 2000.  Tom was an avid bike rider and a proud member of both the Quincy Yaz Men's Softball Team and Milton Men's Bowling League.  He was also a proud participant in The Quincy Senior Olympics.
A Mass of Christian Burial will be celebrated in Saint Gregory Church, 2223 Dorchester Avenue, Dorchester, Monday, October 1st, at 10:00 am.  Family and friends invited. Visiting hours at Dolan Funeral Home, 460 Granite Avenue, EAST MILTON SQUARE, Sunday 4-8 PM. Interment Cedar Grove Cemetery.
Memorial donations may be made to: Seasons Hospice, Milton https://seasonsfoundation.org/donate/