Mario F. Aiello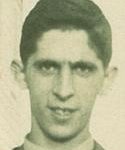 Mario F. Aiello of Dorchester formerly of Hyde Park died on September 27, 2018 surrounded by his family. Beloved longtime life partner of Catherine Duggan of Dorchester. Loving father of Stephen Duggan and his wife Wyslande of Dorchester. Father of Patricia, Jean and the late John Aiello. Brother of the late Salvatore, Susan, Antoinette, Mary, Joseph and Charlie Aiello.
Mario was born in Boston and raised in Readville. He was a decorated veteran of WWII. He was a successful Commercial Builder in the Boston area for many years before retiring. He enjoyed cooking old school Italian specialties and sharing them with his family. Mario loved horse racing and was owner to several race horses. Most of all Mario cherished his family who were the most important aspect of his life. He will be missed by all who had the pleasure to have known and loved him.
Relatives and friends are respectfully invited to attend visiting hours on Saturday October 6, 2018 in the Dolan Funeral Home, 1140 Washington Street, Dorchester Lower Mills 11:00 AM- 1:00 PM. A Service will follow at 1:00 PM in the DolanFuneral Home and conclude with Military Honors. Cremation to Follow.