Margaret (Peggy) McDonough Connolly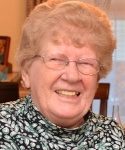 Margaret (Peggy) McDonough Connolly passed away peacefully at home surrounded by her daughters on Friday, September 14th after a hard-fought battle with cancer. She was one of 12 born in County Galway, Ireland and moved to Boston just under 60 years ago.
Peggy raised her 3 children, Joanne, Chrissy and Pat, in Dorchester. She moved to Quincy for a few years and ultimately landed in Braintree with her daughters and son-in-law. Peggy looked after her 3 grandchildren, Sara, Erin and Anna, who were her ultimate pride and joy.
Peggy was always full of life and was the person you wanted at your table at a party. She knew how to have a good time and you were always assured to have fun in her presence. Peggy loved her trips to Foxwoods to play slots and cherished her annual trips to Las Vegas with Chrissy. She made the trek to Disney World several times and enjoyed the magic with her granddaughters.  She treasured time with family when visiting Ireland almost every other year the last few years.
You could always count on Peggy to tell you like it is. If you looked "strong" up in a dictionary any one who knew her would not be surprised to see her name there – in lights. She was never afraid to voice her opinion or right a wrong.
Peggy was blessed with many nieces and nephews whom she loved very much. A common theme remembered by all was her love of Christmas and Christmas lights. She was fortunate to remain very close to her siblings even though oceans separated some of them. Peggy could always be counted on to know the family news because she was diligent in keeping up with her weekly phone calls.
Peggy/Fred(dy)/Nana/Mom/Blondie will be sorely missed but memories of her will live forever. She is always in our hearts.
A Mass of Christian Burial will be celebrated in St. Gregory's Church, 2223 Dorchester Avenue, Dorchester, Monday, September 17th  at 10:00 AM. Relative and friends invited.  Visiting Hours in the Dolan Funeral Home, 1140 Washington St, DORCHESTER LOWER MILLS, Sunday 2-6 pm. Interment Cedar Grove Cemetery.
In lieu of flowers make a donation to your favorite charity – or buy yourself a scratch ticket and a rum and coke.