Dorothy May (Souther) Doherty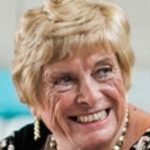 Dorothy May (Souther) Doherty. Retired nurse of Milton, died September 10, 2018 surrounded by her family.
Beloved wife of the late James N. Doherty of Milton. Loving mother of Barbara Gauld and her husband Ronald of Milton; James Doherty, Jr. and his wife Kelly of Atkinson, NH; Jennifer O'Toole and her husband Paul of Milton; Sean Doherty and his wife May of Charlotte, NC; Daniel Doherty and his wife Sara of Milton; and Julie Matthews and her husband Joseph of Milton. Cherished grandmother of RJ and Alex Gauld; Anna Doherty; Paul, Molly, Timmy, Seamus, and Jessie O'Toole; Merrill and Charlie Doherty; Owen Doherty; and Susie Matthews. Special aunt of Daniel and Casey Barron. Dottie is also survived by many close friends. Predeceased by her parents Daniel and Dorothy May (McDermott) Souther of Somerville, and her sister, Denise Barron of Milton.
Known to family and friends as Dottie, Dottie May, and the names she cherished most, Nani and Mom, she was reunited on September 10th with her husband Jim, whom she missed dearly after his death last November. We're sad that we've lost her, but smile thinking of the two of them out on the town in heaven, free from ailments that sometimes slowed them down later in life.
Set up by friends, they had their first date in Somerville, where they both grew up. They were opposites who complemented each other. She was a boisterous, occasionally irreverent people person, where he was reserved and quiet. She liked meals out, his favorite was her homemade corned beef and cabbage. She liked the casino, he liked the car at the casino to quietly read the paper.
But they were an inseparable pair, and she devoted much of the last three years to taking care of him as his health declined. Raising and nurturing six children and twelve grandchildren helped prepare her for this, as did her prolific career as a nurse. She graduated from Catherine Labouré School of Nursing, where she made lifelong friends and started on a path that took her to jobs at Marian Manor, the U.S. Postal Service, Boston College, and Beth Israel Hospital (Milton and Needham).
Her professional success mattered little to her compared to the pride she felt – and shared with pretty much anyone she'd meet – about the activities and achievements of her children and grandchildren. She unapologetically heralded the latest graduation, promotion, school project, game, match, meet, or feis. It's our turn to boast a little about her – she squeezed two lifetimes into one, and made us all richer with her wisdom, laughter, and love. Thank you Mom/Nani/Dottie May; we love you.
In lieu of flowers, donations can be made in her name to the Joslin Diabetes Center or Labouré College (Milton).
Private burial at Massachusetts National Cemetery, Bourne. The Doherty family is planning a Celebration of Life Mass for 11am on Saturday, October 20 at St. Agatha Church, 432 Adams Street, Milton, MA 02186.