David B. Ellis, Jr.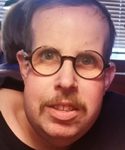 David B. Ellis, Jr., of Onset, passed away September 17, 2018.
Born in Acushnet, he was the son of Donna Fogg Plouffe Ellis of Onset and David B. Ellis, Sr., of Marion. He was 39 years old.
David had many medical struggles over the years and his mother was his greatest advocate and a tireless caregiver. It is thanks to her and his caring and compassionate physician, Dr. Fred Mandell, that David was able to live the life he did.
David had many hobbies and loved being part of his community. Over the years, he organized Pokemon tournaments for the YMCA in New Bedford and called bingo for several community organizations, most recently for the Friends of the Wareham Elderly on Mondays and at Our Lady of Lourdes in Carver on Wednesdays. He enjoyed travelling to Foxwoods with friends to play bingo, bowling, archery, game shows, and watching WWE events. He enjoyed iced coffee every afternoon and was a pickle connoisseur.
David leaves behind his beloved cat, Macy, his parents, his sister Jessica Ellis Wilson of Onset, his brother and sister-in-law Nathan Ellis and Kate Gomes of Dartmouth, his grandmother Mary Fogg Pellicer of St. Augustine, FL, and many other loving relatives and friends.  He was predeceased by his beloved Chrystal Hanley of Acushnet, who passed in 1998. A celebration of his life will be held Friday, Oct 19th, at 6:30pm at the Onset VFW at 4 Gibbs Ball Park Rd.
In lieu of flowers, the family requests that you spend time with your loved ones. Hug them tight, tell them you love them, and appreciate them while you have the chance.