Alice M. (Sampson) Rutecki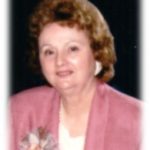 Alice M. Rutecki
September 4, 1924 – September 3, 2018
­Alice M. (Sampson) Rutecki, 93, of Milton, MA, passed away peacefully in the comfort of her home after a long illness on September 3, 2018.
Alice was the youngest of a French-Canadian family of thirteen children born to Joseph Albert and Alvina (Boudreau) Sampson in New Waterford, Nova Scotia, a quaint fishing village nestled in the northeast corner of Cape Breton Island.  At the age of two, Alice immigrated with her family to Watertown, MA, and from K through Grade 8 she attended a grammar school where she spoke only French for the first half of the day and only English during the second half.  Alice graduated from Watertown High School in 1942 and then attended the Burdett Secretarial School in Boston from which she was graduated in 1944.  She became employed as a secretary for Westinghouse Electric Corporation's Electric Service Division in Boston where she met an ambitious young electrical engineer, John E. Rutecki, to whom she was married in 1949 until his death in 2017.  Alice resided in Milton for sixty-nine years where she reveled in the raising of four children, ten grandchildren and six great-grandchildren.  She was a homemaker of extraordinary energy and talent who valued and took great pride in maintaining a loving, welcoming and nurturing home for the benefit and enjoyment of her entire family.  She was not only an endlessly devoted wife and dedicated mother but also a fabulous cook, an outstanding interior decorator, a talented seamstress who custom made all of her own curtains and wall treatments, a kind nurse to whoever in the family was sick, a tireless house cleaner, a perfect typist and strict editor of school reports and research projects, and a reliably available babysitter to three successive generations.  From her early youth Alice loved music and dance, and she became an accomplished pianist who loved to entertain family and friends by playing Broadway show tunes and a variety of pop music songs including her raucous rendition of the 1940's classic "Boogie Woogie Rag."  Alice laughed easily, frequently and infectiously, and her always pleasant and accommodating disposition was rarely displaced by even a trace of anger.  She was a devout and committed member of Jehovah's Witnesses for the past forty-eight years, and she quietly set a shining spiritual example and inspiration for all in her every day activities.  Above all, Alice dreamed of a life full of family, love and selfless service to others, and she was most fortunate to have lived the life of her dreams to the fullest.  Alice was married to her loving and devoted late husband, John E. Rutecki, for sixty-eight years, and she is survived by her four children:  John E., Jr., of Mansfield, MA; Robert J. of Milton, MA;  James C. of Milton, MA;  and Marie A. Hawkins of Murrayville, GA.  She is also survived by ten grandchildren:  Rachel, David, Holly, Pamela, Tara, John Daniel, Kathleen, William, Andrew and Nathan as well as six great grandchildren: Ruby, Gavin, Colton, Blake, Elisa and Isla. Alice's lifetime of love, devotion, service and sacrifice to her family and friends will forever endure in the hearts of her children, grandchildren, great-grandchildren and her many relatives and friends who shall eternally love her as truly as she loved them all.
A graveside service open to the public will be conducted at the Milton Cemetery, 211 Centre Street, Milton, on Saturday, September 15, 2018, commencing at 10:30 A.M.  Please meet at the front entrance.  A memorial service will be held at the Kingdom Hall of Jehovah's Witnesses, 374 Old Post Road, Sharon, MA, later that afternoon commencing at 1:30 P.M.