Antoinette (Ann) Romano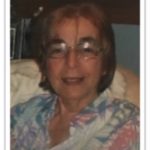 Antoinette (Ann) Romano  (1937-2018)   
 Antoinette (Ann) Romano,  81 passed away in Florida on August 24th while in the comforting company of all four of her  children being with her, along with telephone calls from her grandchildren during her final days at the hospital in Florida.
Originally from Somerville, Ann was a single Mom who worked three jobs to make ends meet and raise her children with Love and determination with the help of her own parents.  The daughter of the late Nicola Romano and Lorenzina (Abbondante) Romano, sister of the late Ray Romano and Allasandro (Al) Romano and mother of Patrick Gordon, Kathleen Gordon, Maureen Geary, Brian Gordon and the late Michael Gordon.  Grandmother of Brian Gordon Jr, Nicholas Gordon, Sofia Gordon, Julia Lorenzina Geary, and Maria Antoinette Geary.  Beloved niece of Rose Eromin, Ruthie Gray, the Late Cosmo Abbondante, the late Anna Magaliozzi, the late Lea Dovidio, the late Salvatore (Sal) Romano, and the late Mary (Romano) Caruso.
Ann's children are hosting a Celebration of Life to honor her devotion to her many family members, children and grandchildren.  Relatives and friends are respectfully invited to attend a visiting hour Friday, September 14th, 2018,   10-11 AM in Story Chapel at Mt Auburn Cemetery, 580 Mt. Auburn Street, Cambridge. Interment immediately following visitation.
The Gordon and Geary families wish to thank all their relatives, friends and colleagues for their expressions of sympathy and support.