Spencer Michael Collins, III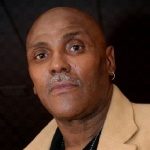 Spencer Michael Collins III was born October 15, 1951 in Asheville, North Carolina to Spencer and Adel Collins. He was the youngest of three until Mother Adel Collins decided to adopt a new baby girl whom Michael accepted with open arms. He had an older Brother Alexander (Sonny) (deceased) an older sister Gwendolyn (Gwen) and a younger sister Jacqueline (Jackie) (deceased).
Michael affectionately known by all as "Big Mike" received his formal education in Boston, Massachusetts. Michael accepted Christ in his life at an early age and was involved in a leadership role over all youth programs within the church. Michael loved music and always sought ways to increase his musical knowledge. Although multi-talented, his passion was music and his gift was playing "THE DRUMS".
Big Mike traveled and played with many professional and local groups such as The Energetics, Clarence Thompson & The New Spirits of Boston, and the Legendary Collins Singers just to name a few. His love of playing the drums and singing always seemed to bring him back to his gospel-roots and The Church. Although he was in the Music-Ministry at several churches during the course of his career, his last assignment before taking ill was with the Shekinah Glory COGIC in Abington, MA under the leadership of Pastor James C. Allen, Sr.
In the 60's he met and fell in love with Billie Ray his Sister Gwen's friend whose family happened to be new members at his Mom's church (Antioch Pentecostal Baptist Church). In addition, they were co-workers at the Sattler Hilton Hotel where he and a group of young people worked after school. The young people would often gather at Mother Collins' residence after church, during holiday vacations, recreational time and enjoy the musical talents of the Collins Singers during their rehearsals and jam-sessions. Michael decided after a while to announce to Billie "I Am Going to Make You My Woman one day"…(laughter)…"Oh Gwen your kid brother is so cute and funny doesn't he know that I am older than him?" Ok…So….fast forward 50 years later here we are! We did the prom, the courting thing, the marriage thing and the baby thing and from that love was born Five Children: Spencer M. Collins IV (Cer), Delatha W. Collins (Latha) (Marva), Rovenia M. Collins (Prettybenia) Cherayna R. Collins (Daddy's Diva), Kyriele D. Collins (Bumpy Jr.) Nine grandchildren and three great grandchildren. Big Mike was a devoted Husband and Father to his own 5 children as well as others. He was Grandfather, a Great-Grandfather, an Uncle, a Great Uncle, Brother, Loyal Friend and hard worker with a work-history that spans many years, though he spent 35 of them at (J. Freeman Inc.) Michael was also a Believer…he believed that all things were possible through and with God…
He leaves to mourn in his passing "His Woman" and Faithful Wife… Billie R. Collins, his Children, Grandchildren, Great Grandchildren, Sister Gwendolyn Collins, sister in laws Marcia M. Moore and Sandral Ray, Brother in law Charles Moore, Daughter in Law Marva Collins, host of nieces, nephews, great nieces, great nephews, a host Relatives Friends, and Loved ones…He is gone but never forgotten…
He would say now…"You ought to take the Lord with you everywhere you go…."
Funeral Service in Greater Love Tabernacle Church, 101 Nightingale St., Dorchester, Tuesday, August 14 at 11 o'clock. Visitation at the Church 10 – 11 am. Interment Fairview Cemetery, Boston.
In lieu of flowers please send donations to Joslin Diabetes Center, 1 Joslin Place, Suite 745, Boston, MA 02215.