Jeannette Alexis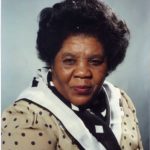 Jeannette Alexis, the first daughter of Clarice Dormeus, was born in Dame Marie, Haiti on March 18, 1935. Jeannette was an extraordinary and exceptional woman. She raised her seven children and her younger brother, Toussaint Dormeus, where she took great responsibility with meager means to make sure that they were raised with love and discipline.
Upon immigrating from Haiti, Jeannette spent a year in France and in 1989 took flight to the United States. With brief stints in Florida, she eventually settled in Boston, MA and resided with her late daughter Nicole, her husband and her grandchildren. She was an anchoring force in their and all of her family's life. She was a self-sufficient woman, maintaining her home, supporting those in need, and sustaining an active social life with church members and friends who also became like extended family to her. She worked tirelessly to save funds for her only remaining child in Haiti to come to the United States and reap benefits of a better life. In 2011, she was sworn in as an American citizen, an honor she took great pride in and humorously referred to herself as "Mrs.Obama."
She accepted Christ as her personal savior and was later baptized in France by her eldest son, Pastor Ernest Alexis. She was an active member of the Ebenezer Church of Boston led by her beloved Pastor Raoul Pierre. In her older years, Jeanette was experienced as a grandmother to all. She welcomed all young people as her own and took time to listen and meet them where they were. She was a woman of valor, caretaker, full of laughter and joy, and always fashionably dressed.
Jeannette fell ill of a massive stroke on April 1, 2017 and went to be with the Lord on August 20, 2018. She was preceded in death by her late son, Mason and late daughter, Nicole.
She leaves behind her brother, Toussaint Dormeus and family, her children – Marie Simone, Louis Ernest, Marie Madeleine, Jacqueline, late daughter Nicole, late son Mason, and Marie Guecheline; her grandchildren – Samuel, Emmanuelle, John, Michael, Jonathan, Lindsay, Ruthza, Jean Elie Jr., Emmanuel, Rachel, Daniel, Kenny, Noelani, Nathan and Jeremie, in addition to large number of great grandchildren, nieces and nephews and in-laws.
Family and friends are invited to attend a viewing on Saturday September 1, 2018 8:30am-9:30 am In Boston Missionary Church.  Service to follow at 9:30am
Burial in Fairview Cemetery, Boston.  See.www.dolanfuneral.com for online condolences.