Francis J. Ochs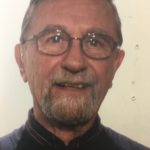 Francis "Frank"  J. Ochs, Of Dorchester, formerly of Milton, passed away peacefully on August 24, 2018. Brother of John A. Ochs and his wife Elizabeth and late William W. Ochs. Loving uncle of  Andrew Ochs and his partner Lisa Imsand, Tricia Brunner and her husband Steve, Joanne Bennett and her husband Dave and Kenneth Ochs and his wife Sheryl. Cherished granduncle to Alex, Charlotte, and Caroline Ochs, Anna, Elena, and Tess Brunner, and Juliana, Jack, and Brynn Ochs.
Frank attended grammar school at St. Margaret's in Dorchester, spent the next four years as a seminarian at the Carmelite Jr. Seminary in Hamilton, MA which he remembered as the happiest days of his life. Employed at the Boston Herald for 45 years as a photo engraver, he worked his way from night copy boy to president of the photo engraving union. He served as the public relations director for the St. Kevin Emerald Knights Drum and Bugle Corps for several years, wrote news articles for the Dorchester Argus, served nine years in the Massachusetts National Guard, made final Profession in 2007 as a Third Order Lay Carmelite in Peabody. He served faithfully as an Associate Member and member of the Executive Board for the now disbanded Little Brothers of St. Francis who were very important to him. He was a devout, caring man who loved art, singing old songs, and his Irish and German heritage. He will be dearly missed by his family and friends.
Visiting hours will be at Saint Teresa of Calcutta Church on Friday August 31, between 10:00am – 11:00am followed with a Mass of Christian Burial at 11:00 o'clock. . If desired, Frank requested any contributions in his memory be sent to Saint Teresa of Calcutta Church, 800 Columbia Rd., Dorchester, MA 02125.