Douglas Cagney Fitzgerald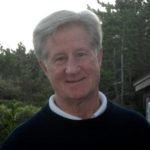 Douglas Cagney Fitzgerald of Milton, a West Point graduate, and Vietnam veteran, passed away peacefully at the age of 72 after a courageous battle with brain cancer on August 6, 2018. Born to the late James H. and Eleanor (Cagney) Fitzgerald, Doug was raised in Oradell, New Jersey. Doug graduated from the United States Military Academy at West Point with the class of 1969. He played soccer for West Point and was part of the Glory Years (1963-1966), a period when Army Men's Soccer achieved four consecutive NCAA Tournament Final Four appearances. In addition to playing soccer, Doug was a ski instructor and member of the Ski Patrol at West Point.
Upon graduating, Doug served his country in the United States Army. He returned from service to attend graduate school at Penn State. Doug graduated with a Master of Business Administration degree and went on to be gainfully  employed by Proctor and Gamble. As his career progressed, Doug transitioned to academia, where he served as Dean of the Business School at Johnson and Wales University and as a professor and soccer coach for Bryant University. An avid skier and outdoorsman, Doug enjoyed spending time with his family hiking and skiing in the White and Rocky Mountains. Later in life, Doug developed a passion for cycling, participating in a variety of century, charity, and recreational rides.
Doug will be forever remembered by his loving wife and best friend, Julianne (Whelan) Fitzgerald, as well as his sons Scott and Tara of West Newton and Robert of Denver, Colorado. Doug's memory will always be cherished by his three grandchildren, Alexandra, Christopher, and Samantha, as well as his nieces, nephews, dear friends and beloved "Katie."
A celebration of Doug's life will be held on Sunday, August 12 from 2 – 4pm at Dolan Funeral Home, 460 Granite Avenue, East Milton Square. Interment will follow at a future date at the West Point Cemetery, West Point, NY. Memorial donations in Doug's memory can be made to Army West Point Men's Soccer through the West Point Association of Graduates, 698 Mills Road, West Point, NY 10996.