Rodrigue Jean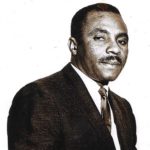 Rodrigue Jean, 88, passed away surrounded by his loving family on Wednesday, July 4th, 2018.
Born on August 22nd, 1929 in Tabare, Haiti to his parents, Elize Cenatus-Jean and Brenis Jean, he was the couple's first born of eight children.
At a young age, Rodrigue moved to Port-au-Prince to pursue his education. While in school at Simon Bolivav, one of the most prestigious schools in Port-au-Prince at the time, he studied auto mechanics. Rodrigue went on to become one of the best-known auto mechanics in his town. He always exhibited a relentless determination and went on to work at Society Automobile of Shaza, the biggest auto garage in the city. At this garage, he was a chief mechanic and known as 'Boss Rodrigue' by all of his employees. At this point he had established a home in Port-au-Prince, his home was often frequented by his brothers and sisters whenever they would visit the capitol.
Rodrigue was always thinking ahead of his time, he felt that it was his duty to do all he could to help his family. He made the decision that he was going to travel to the United States in pursuit of a better life; he left behind a luxurious life in Haiti in pursuit of the American dream.  Rodrigue's journey started in New York City, where he made $1 an hour and paid to sleep on a couch that was given to him from 9pm-5am. He then spoke to some friends who convinced him to move to Boston where he would later bring his family, one by one.
In Boston, Rodrigue worked at a car garage for one year then went on to work at Coca-Cola for three years. He then decided to apply for a job at General Dynamics and ultimately became a rigor at the company. He worked as a taxi-driver on the weekends and would later transition into working as a driver full-time.
Rodrigue had an unwavering love for his family and friends. He was also loved by everyone he met, he had an infectious personality and always wanted to make others laugh. He believed that the best way he could raise his children was to be a stern and respected father. He instilled the values of hard work, courage, and reputation into each of his children. He is most proud to have brought his entire family to the United States to have a life better than they did back home.
Rodrigue is survived by his wife Clarisse Jean, whom he loved dearly. He is also survived by his children Miguette Jean, Kettly Jean, Valinstagne Jean, Yves Jean, Guilaine Jean-Mary, Marlie Edouard, Joseph Jean, Gracien Rodrigue Jean, Ronald Bellerice, Cheryl Jean, Sandra Bellerice and, Stephanie Bellerice as well as his children's mother's, Tertulia Edouard and
Marie Bellerice. He is survived by his many grandchildren as well as his many nieces and nephews who loved and adored him.
He is also survived by his loving siblings Marie Ersulie Verrier Jean, Wilfred Jean, Florence Jean, and Iphonia Jean-Louis. Rodrigue is preceded by his siblings Glatide Jean, Max Jean, Chesnel Jean, Edia Pierre-Jean, Marie Andree-Rene, and Irma Jean.
It should be known that Rodrigue lived a very full life. He was the patriarch of the Jean family and led this family through all the good and bad times. He was looked at, by everyone, as the man to talk to and get advice from. He will be missed dearly, may he be remembered for his sincere love for his family and the love he shared with us all.
Visiting hours at Dolan Funeral Home, 1140 Washington Street, DORCHESTER LOWER MILLS, Friday, July 20 from 4-8pm. A Mass of Christian Burial will be celebrated in Saint Angela's Church, Blue Hill Avenue, Mattapan Square, Saturday at 10am. Interment Forest Hills Cemetery.