Michel Petit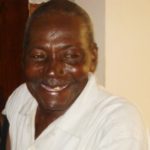 Michel Petit, formerly of Randolph, died at the age of 82, June 29, 2018.
Beloved husband of Angela Francois and loving father of Jesula Sanon, Michlet Petit, Shoupèt Petit, Loran Petit, and the late Dieubon Petit. He was a farmer in rural Haiti for over 50 years raising cattle, horses, chicken, and farming vegetables.
He had a special place in his heart for his grandchildren and assigned each one of them a special nickname. He was very social and had the funniest jokes to tell.
A special thank you to the Bostonian Nursing & Rehabilitation Center and Dr. Jeff Siracuse at Boston Medical Center for their kindness and support.
A Mass of Christian Burial will be celebrated in Saint  Bernadette Church, 1026 North Main Street, Randolph, Friday July 6th, at 10 o'clock. Visitation 9-10 am at the church. Interment St. Mary's Cemetery, Randolph.