Joao Baptista Pereira Goncalves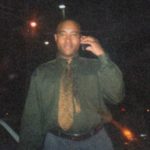 Joao Baptista Pereira Goncalves, 56, of Weymouth passed away on Saturday, June 16, 2018.
Beloved longtime partner of Joanne Berry of Randolph. Loving father of Carlos Goncalves of Cape Verde, Jacquline Goncalves of Portugal and Celina Goncalves Berry of Randolph. Caring step-father of Alexis Berry of Boston, Janice Berry of Brockton, Carl Berry of Randolph, Erica Berry of Brockton, and Joshua Berry of Boston. Brother of Edna Goncalves, Maria Dul Celina Goncalves, Llm Goncalves, Celina Goncalves all of Cape Verde. Joao also leaves behind six grandchildren, ten step-grandchildren, several nieces and nephews as well as many friends and extended family members.
A Mass of Christian Burial will be celebrated in Saint Patrick's Church, Dudley Street at Blue Hill Avenue, Roxbury, Monday, July 2 at 10:00 AM. Visitation at 9:00 AM at the church. Internment in Cape Verde. Family and friends are invited to Amvets Post No 51, 9 Amvets lane, Randolph, MA immediately following the Funeral Mass.