Jeanne Nimeskern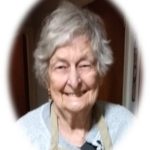 Jeanne (Otis) Nimeskern died on July 1, 2018, aged 86 years old.
Jeanne was born on September 11, 1931 in Augusta, Georgia, the only child of A. Francis Otis, Jr. and Anna (Mulherin) Otis.  After A. F. Otis passed away in 1942, Anna then married Thomas Dennis in 1945 and the family moved to Dover, New Hampshire.  Jeanne attended high school at St. Mary's Academy, Dover, New Hampshire.
Jeanne married Phillip W. Nimeskern on June 21, 1952 and moved to Massachusetts.  They built their home in West Quincy and had 5 children.  Jeanne and Phill were married for 60 years before Phill passed away in 2012.
They were members of St. Mary's Church and Jeanne was a member of the Sodality and the Mother's Guild.  Jeanne was a Cub Scout den mother, a Camp Fire Girls leader and a Girl Scout leader.  She was an avid Boston sports fan.
Jeanne is survived by her children: Patricia Gager and her husband Gerard; Phillip Nimeskern and his wife Lynn Noel; Kathryn O'Neill and Tim Wong; Elizabeth Rossi and her husband David; and Debra Silva and her husband James.  She is also survived by her grandchildren: Michael Gager; William Gager and his wife Katherine; Jeanette Stair and her husband Matthew; James Rossi; Patrick Rossi and his wife Taylor Ann; and Kaitlyn Rossi.  Jeanne was also the proud great-grandmother of Lily Gager and Sylvia Jeanne Rossi.
A Mass of Christian Burial will be celebrated at St. Mary's Church, 95 Crescent St., Quincy, Friday, July 6, at 10:30 am.  Visiting hours at Dolan Funeral Home, 460 Granite Avenue, EAST MILTON SQUARE, Thursday 4 – 8 pm.  Interment Massachusetts National Cemetery, Bourne, Monday, July 9 at 10:30 am.
In lieu of flowers, donations in Jeanne's name may be sent to The Alzheimer's Association, 309 Waverly Oaks Rd., Waltham, MA 02452.