Coleman Sean O'Toole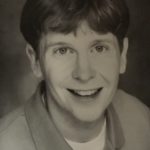 Coleman Sean O'Toole, of Milton MA, a beloved young man of 42, Coleman died far too soon but gracefully, surrounded by friends and family on June 29, 2018.
Cherished son of Dean Emeritus of New England School of Law Robert Edward O'Toole and Attorney Frances Rita (Doherty) O'Toole, Coleman was born on April 25, 1976 in Dorchester, MA and was named after his grandfather Coleman Francis O'Toole and his uncle Coleman Vincent O'Toole.
A member of the "thirteen-year club" Coleman attended Milton Academy from kindergarten through high school. Diagnosed with multiple sclerosis at 16, he dedicated the rest of his years to living life to the fullest and spreading joy and laughter to everyone he met. He never complained about the hand he was dealt; he was always too busy and excited about his next adventure.
Coleman attended Skidmore College in Saratoga Springs, NY, where he was a gifted sculptor, radio DJ and actor, appearing in many campus productions. Graduating in 1998, he went on to become a founding member and Senior Vice President of Fovea Floods, an independent avant-garde theater company, appearing in a variety of productions, from the original work Paul Pry, adapted from Hans Christian Andersen's The Snow Queen, to Bertolt Brecht's Baal.
An avid reader and world traveler, Coleman never slowed down, although he always had time to devote to helping and caring for others, especially his three beloved nephews, Owen Ulysses O'Toole, Callum Flynn O'Toole and Rory Sean O'Toole.
Coleman is survived by a traditional Irish Catholic multitude of uncles, aunts and cousins who loved and supported him throughout his life and by his one younger brother Christian Liam O'Toole, who was extremely close to him and happily served as his companion, confidant, supporter, partner in crime, protector and author of this loving tribute.
A Mass of Christian Burial will be celebrated in St. Elizabeth Church, Reedsdale Road, Milton, Saturday July 7 at 10 AM. Relatives and friends invited. Visiting hours at Dolan Funeral Home, 460 Granite Avenue, EAST MILTON SQUARE, Friday 4 – 8 PM. Interment Milton Cemetery.
Donations may be made to St. Jude Children's Hospital.