Gloria (Melvin) Whalen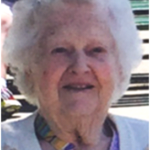 Gloria F. (Melvin) Whalen, 86, of Easton, formerly of Quincy and Dorchester,July 26, 2018.
Beloved wife of the late Joseph Whalen and the mother of the late Mary A. Whalen, sister of the late Regina Donovan, David Melvin, Mary Hilliard, John Melvin, James Melvin and Paul Melvin.  Survived by her brother, Thomas Melvin, of Stoughton and many loving nieces, nephews, grandnieces and grandnephews.
Gloria was born in and raised in Dorchester and lived most of her life in the city she loved.
Gloria was a pioneer in the insurance industry at a time when it was dominated by men. She worked for many years at Cameron & Colby and was well-known and respected as a sharp business woman.  Through her years of working, she traveled extensively to conventions and seminars and loved every minute of it.
The love of her life was her daughter, Mary.  Gloria dedicated herself to her daughter, helping her with all the health struggles her daughter endured.  It was her main purpose in life.  Gloria also cared for her husband, Joseph, for many years with his health issues.  She was such a strong person for all the caring she gave during her life.
Gloria was the matriarch of her large family of brothers, sisters, nieces and nephews who looked to her for guidance in life.  She will be greatly missed.
A Mass of Christian Burial will be celebrated in St. Gregory's Church,2223 Dorchester Avenue, Dorchester, Wednesday  August 1st  at 10:00 AM. Relative and friends invited.  Visiting hours in the Dolan Funeral Home, 1140 Washington St, DORCHESTER LOWER MILLS, Tuesday 4-8 pm. Interment Private.