The Honorable Charles F. Barrett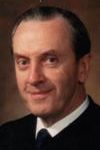 The Honorable Charles F. Barrett, in Canton, formerly of Milton, June 27, 2018.
Beloved husband of the late Marie P. (O'Malley) Barrett. Loving father of William C. Barrett of Norwood, Kathleen M. Barrett-Lewis of Milton, Janice Vanty Barrett of Virginia Beach,  John R. Barrett of Westminster, Richard J. Barrett of Canton and James P. Barrett of Arlington. He is also survived by 13 grandchildren, 3 great grandchildren and several nieces, nephews and cousins.  Brother of the late Mary Hughes, Margaret Barrett, Eileen Coletta, Evelyn Hilton and Alice Donlan.
Charles was born in Cambridge, the youngest of six siblings.  He is a graduate of Saint John's High School, Boston College, class of 52′ and Boston College Law School, class of 55′.  He was an active member of both the Class of 52′ and 55′ Alumni Groups.  He had served BC Law as the Case Review Editor and Class President from 1953-1954.  He was award the Jurisprudence Award, Creedon Award and the most important being the National Honor Society Order of the Coif.  Charles was the Judicial Clerk for Associate Justice James Ronan of the Mass Supreme Court from 1955-1956 the Assistant District Attorney from 1956-1959, and a part-time BC Law School lecturer from 1957-1959.  He practiced Litigation and Product Liability Law with the firm of Nutter, McClennen & Fish from 1959-1989 and was appointed the Associate Justice to the Massachusetts Superior Court by Michael Dukakis in 1989, which he served until 2000.
Charles was a proud member of the American College of Trial Lawyers, Mass Bar Association, in which he served multiple committees, the Catholic Lawyers Guild and a Trustee of the Social Law Library.  He was an educator for the Mass Continuing Legal Education and a lecturer for the National Institute of Trial Advocacy Program.
Locally Charles was the Milton Chairman of the Board of Appeals, between the 70s and 80s, and a Town Meeting Member.  He was a member of Saint Elizabeth's Church and reverently taught the Christian Formation classes.  When he had even a moment of free time, Charles was volunteering at local homeless shelters.
Charles loved most especially spending time with his grandchildren and great grandchildren, having family barbecues, traveling and reading.  He loved photography, working on home improvements and gardening.  His favorite holiday of all was celebrating the 4th of July.
A Mass of Christian Burial will be celebrated Saturday in St. Elizabeth Church at 10 AM. Relatives and friends invited. Visiting hours at Dolan Funeral Home, 460 Granite Ave., EAST MILTON SQUARE, Friday 4 – 8 PM. Interment Milton Cemetery.
The family sends a special thank you to Brightview Retirement Community in Canton for their kindness and support.