Stephen B. Poelaert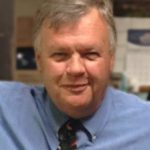 Stephen B. Poelaert, 62, formerly of Milton and Duxbury, suddenly passed on May 30, 2018.
He was born June 4, 1955 in Milton to the late Richard and Estelle Poelaert.  He was a 1974 graduate of Milton High and a 1978 graduate of Boston College.  He was on the State Champion baseball and hockey teams, three years running, and an amazing goalie for B.C.  Steve was the Supervisor of Buildings and Grounds at Bristol Plymouth Regional Technical  High School, the happiest job he ever had.  He lived life for his family, long rides, oldies music, and the Sunday Globe with his Dunkin's coffee.
Steve is survived by his best friend and wife Madeline (Dugan); his children Nicole Costanzo and husband Robert, Sean, Daniel, Mallory, and loving dog Colby.  He was loved by two grandchildren Colton and Callie. He preceded by his sister Donna Bowie and husband John, and his brother Richard. Brother-in-law to Richard and Connie Dugan, Mary Lou and the late Robert Miller, Margaret and John Bessette, Monica and Michael Luchini, Martha and Charles Paris, John and Katherine Dugan, and the late Maureen and Patrick Gallagher.  Beloved uncle to many nieces and nephews
A Mass of Christian Burial will be celebrated in Saint Agatha Church, 432 Adams Street, Milton, Friday June 8 at 10:30 AM. Relatives and friends invited. Visiting hours at Dolan Funeral Home, 460 Granite Avenue, EAST MILTON SQUARE, Thursday 4-8 PM. Interment Milton Cemetery.
In lieu of flowers the family asks for donations to be made to either Cystic Fibrosis Foundation, 220 North Main St, Suite 104, Natick, MA 01760 or the American Heart Association, 300 5th Avenue Suite 6, Waltham, MA 02451.