Julia Lopes Gonsalves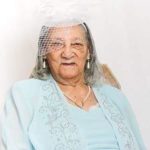 Julia Lopes Gonsalves passed away on Tuesday, June 5, 2018 surrounded by family. Loving mother of Abel Lopes and Domingas Mendes. She also leaves behind a host of grandchildren, nieces, and nephews.
A Mass of Christian Burial will be held in Saint Gregory Church on Saturday June 9 at 10am. Visiting hours at the Dolan Funeral Home, 1140 Washington St., DORCHESTER LOWER MILLS, on Friday from 4-8pm. Interment at Cedar Grove Cemetery.