Evangelos V. "Van" Petras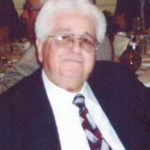 Evangelos, V. "Van" Petras died June 30, 2018 peacefully with his wife, brother and sister-in-law by his side.
He was born in Athens Greece 11-4-31 and came to the US in 1965. He worked
for 12 yrs. as a supervisor at Jordan Marsh Company. Later he owned his own business"Art Tailoring and Cleaning" in Quincy. He was a devoted Greek Orthodox Christian whose beliefs showed in his actions. He devoted many volunteer hours to his beloved church, St. Catherine Greek Orthodox Church in Braintree serving as Parish Council Member and helping
the secretary.
He was the son of Vasilios and Marianthe (Yiannoulis) Petras.  He leaves behind "the love of his life"of 48 yrs Pauline (Droutsas) Petras. His brother Demitrios and his wife Helen of Medford, the late Eleftherios and his wife Angelike of Athens Greece, his sister Nektaria and her late husband Mathew Macrionites of Athens Greece, his sister Victoria and her late husband Dr. Pano Yiamarellos of Athens Greece, Nickolaos and his wife MAry of West Yarmouth MA. He also left 9 nephews and nieces and many great nieces and nephews and 15 God Children.
Relatives and friends are respectfully invited to attend visitation on Tuesday July 3, 2018 11:00am-1:00pm in Saint Catherine's Greek Orthodox Church,  119 Common St. Braintree.  A Funeral Service  will follow at 1PM.  Interment in Forest Hills Cemetery, Boston.
In lieu of flowers please consider a donation in memory of Van to Saint Catherine's Building Fund, 119 Common Street, Braintree, MA  02184.