Edan Cicerone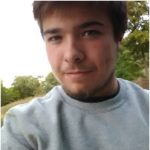 In loving memory of our Edan Cicerone who was born on June 30, 1994 who passed away in his sleep on May 30. He is survived by his mother and father, Paul and Donna, and his loving brother, Michael Cicerone. As well as his extended family of grandparents, aunts, uncles and cousins.
Edan was a kind soul who saw the injustices of the way people treat each other. His empathy towards the underdogs in life made him a strong special person. The word empathy comes to mind when we think of him. The people he came in contact with and who got to know him always saw this clearly. He was recently working with disabled adults and had found his calling. He had a great sense of introspection and was forever trying to be a better person. He was forever working on the obstacles that he came across in life. The last three years he worked with special needs children, animals, and handicapped adults. Edan would want all of us to be kind to each other. He could never understand somebody not accepting another person for who and what they were. He was a great listener who would always have the time to discuss and help others. His patience was something he took pride in.
Edan had a beautiful, kind soul and will be remembered for that. He would drop everything to sit with family or friends to talk about anything that troubled them. He always had an open ear. Edan embraced learning from anyone within his reach. These are some of the personal reflections that were found in his writings:
"I'm grateful for the range of emotions I can feel that paint  my experiences in color."
"I am grateful I can train myself to want less and appreciate more."
"I'm grateful for my imperfect ability to adapt and accept change."
"The more I keep my mind open the more warmth and safety I feel in my heart."
"I am excited for tomorrow and that is a revelation for me "
– Edan Cicerone.
These are perfect examples of his keen understanding of who he was and the world around him. He had an uncanny ability to be self-aware. He knew the difference between his wants and his needs. He was not afraid to admit his faults or fears.
His passing has left a hollow void that will be impossible to fill. In memory of Edan, he would ask you to be true to yourself, be kind, accepting, and show empathy to others.
The Cicerone family invites you to join them at a tree planting service that will be held on Saturday, June 9 at 9:30 AM. 57 Hurlcroft Road, Milton, MA, 02186. The service will be followed by a luncheon at Venezia Waterfront Restaurant at 20 Ericsson Street, Boston, MA 02122 from 12:00 PM to 4:00 PM.
Memorial donations can be made in Edan's memory to the  Edan Cicerone Scholarship Fund c/o Blue Hills Bank , 480 Adams Street Milton Ma 02186 (trustee Paul Cicerone). The scholarship will be given to a Milton High school student in the LGBTQ community.  https://www.gofundme.com/EdanCiceroneFund-gmail-com