Jeanne Marie Dolan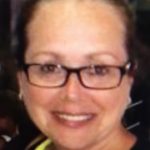 Jeanne Marie Dolan, of South Boston, entered into eternal life on June 6 after a courageous battle with cancer.  Jeanne (Gigi) was the beloved daughter of Elaine A. Kelley of Naples, Florida; she was sister to Kathleen Dolan Kennedy (John) and Patrice Morse (Carter).
"Uncle" Gigi was so proud of and devoted to her nieces and nephew:  Shannon, John, Ally, Sophia, and Juliet.  They were the center of Gigi's heart and world.
Jeanne is also survived by her half-siblings, Brittany Mautner (Eric) and Jay W. Dolan. Her niece Molly preceded her in death.  Jeanne was also preceded in death by her father, J.W. Dolan, M.D.
Gigi was blessed with a circle of friends, whom she embraced as family: Janet Meserobian/Moroney (John), a lifelong friend, and her children (Morgan and Alex); and last but certainly not least, her dearest friend and companion, Stephen Garrity.
We will remember Jeanne's fondness of Martha's Vineyard (and her screen name "chappyferry"), as well as her trunkful of presents and endless store of research-project ideas for her nieces and nephew.
Jeanne was a dedicated physician, having studied at Boston University School of Medicine and Tufts New England Medical Center.  She worked for many years at McLean Hospital as a psychiatrist, primarily for adolescents.
Jeanne's family members wish to express their gratitude to the doctors, nurses, and staff at Massachusetts General Hospital and Spaulding Rehabilitation Center who cared for her.
Memorial Service at First Congregational Church of Milton, 495 Canton Avenue, Milton, Friday June 15 at 11:00 AM. Relatives and friends invited. Visiting hours at Dolan Funeral Home, 460 Granite Avenue, EAST MILTON SQUARE, Thursday June 14 from 5-8 PM.
In lieu of flowers, please make a donation on Jeanne's behalf to Camp Jabberwocky (campjabberwocky.org) on Martha's Vineyard or Cystic Fibrosis Foundation (fightcf@cff.com).