Reverend Doris C. Bellinger Gethers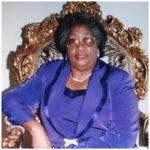 Reverend Doris C. Bellinger Gethers, formerly of Boston, departed this life for a place of peace and rest on Sunday May 6, 2018 at The Regional Medical Center, Orangeburg, South Carolina.
Doris was brought into this life on May 5, 1939 in Vance, South Carolina. She was the daughter of the late Mr. Isiah Bellinger and Mrs. Maggie Lee Fuller Bellinger.
She grew up in Vance and attended Roberts High School.  She did further studies in Secretarial Science and completed a Master's Degree in Divinity Studies.
While in Boston, Massachusetts, Reverend Gethers worked at Bank of New England. Later, she moved to Miami, Florida, where she worked at Cedars Sinai Medical Center until here retirement in 2012.
While in Miami, she met and married the love of her life, Charlie Gethers.
She was preceded in death by a son, Cleveland Gethers; one brother, Isiah Bellinger and three sisters: Mattie Bellinger Green, Mildred Bellinger Williams and Cammie Mae Bellinger Johnson
She will always be remembered with love by her children: Brenda (Clarence) Perkins, Sanquinetta Gethers, Samuel Gethers and Tarita Gethers, all of Boston, Massachusetts, two sisters: Mrs. Lizzie Mae Hilliard, of Vance, South Carolina and Ms. Anniebelle Bellinger, of Boston, Massachusetts; one sister-in-law, Mrs. Mary Gethers Vogt, of Cross, South Carolina; fifteen grandchildren, thirteen great-grandchildren and a host of nieces, nephews, cousins, other relatives and friends.
Visitation at Charles Street AME Church, 551 Warren Street, Roxbury, Monday May 21 at 10:00 AM followed by a service at 11:00 AM. Relatives and friends invited. Interment to follow in Mount Hope Cemetery.