Leo C. "Babin" Bibinski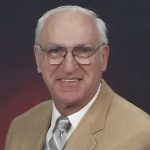 Leo C. "Babin" Bibinski, of Milton, formerly of Dorchester, May 22, 2018.
He was born in Cambridge, MA on January 2, 1924 as the youngest of five children. His  parents, Joseph and Hedwig, were Polish immigrants. The thing he remembered  most fondly about his mother was her devout Roman Catholic faith and her constant life of prayer.  His  father worked most of his life in the railroads, which allowed him to travel across the United States on occasion with free railroad vouchers.
He was a very active child and loved fixing things and helping people. He loved playing football with the local kids. He had a sure pair of hands and according to him, was always the fastest kid in the neighborhood. He  played often at a place called Gushie's Farm. He attended mass every week and his faith was important, even in childhood.
Leo met his eventual wife, Helen, at a polka dance before he joined the Army.  Leo thought she was a great dancer.  Leo always loved working with his hands in school and enjoyed taking mostly technical classes such as machine shop and blacksmithing. Leo enrolled in Tri-State University in Angola, Indiana to study mechanical engineering, and his  first memory of school was missing his train stop and ending up in South Bend! He had to take a bus back to school. He only finished about a year of college before being drafted into the Army in 1943.
The Army took him all over the world. He reported for duty at Boston Army Base, went to Fort Devens, and then onto Camp Edwards on Cape Cod for basic training. From there,  he was sent to Springfield, MA where he served as an MP.  He only did that for about three months because he missed being active. Next, he went to the University of Pittsburgh to begin training to become an Army pilot. However, the program was cancelled and he ended up being a medic/medical technician. He eventually found his way out to California where he was shipped out to the Philippines. He  spent a month on a ship with over 4,000 other soldiers before reaching their final destination in Manila. Leo  served in many roles, including working in several field hospitals. One experience that he recalled particularly well was watching over 300 Japanese prisoners of war. He always remembered the day he got home – March 18, 1946.
As soon as he got home, he  signed up for the Air Force Reserves.  He was called up to active service during the Korean War, where he worked as a crew chief servicing F-86 jets. He recounted the feel of the engines in his hands. He  could replace and repair an entire engine in just an hour, can you believe it?!  He served most of his time in Smyrna Air Base near Nashville, TN. He pioneered the idea of wearing different colored caps based on your role at the Air Base so you could recognize everyone on the airfield from far away. His planes always flew the fastest and worked the best. Everybody on the base said that "Bibinski will fix it for you!" no matter what wasn't working right.
After his military service, he began using his mechanical skills to fix  all sorts of machinery. He worked for a while for a machine company in East Boston but quit that job because the company leadership kept telling folks that  he was fixing things for customers when he really wasn't.  He got tired of that and just quit! He worked in Arlington for some time and eventually started his own company in April, 1959, which he named Babin Machine Tool Rebuilding.  His first "shop" was the barn behind his parents' home. To this day, Babin Machine Tool has a world-wide reputation for honest, top-notch work, all started by Leo.  The "Babin" name is known as far away as Australia, Uruguay, South America, and even the South Pole! His machine repair service work took  him all over the world, from Canada to London! Work was a very important part of his  life because fixing things gave him such great satisfaction to have helped someone else.
On May 2, 1954 he married Helen, the love of his life, and they had five wonderful children – Carol, Paul, Elaine, Joe and John.
Outside of work, Helen and Leo loved to spend time on Cape Cod. They bought a cottage in West Dennis, and on an extra lot built a new cottage with his own two hands. Eventually, they were blessed with 11 grandchildren, and the cottage was a wonderful place for many family gatherings. Leo and Helen asked their grandkids to bring friends as much as possible; one year they had 8 college kids at the house! Although he was reluctant at first to spend more time on a ship, Helen eventually convinced Leo to take a vacation cruise. After he got a taste of the cruise life, he loved it! They  have been on over 20 cruises to places like Alaska, Hawaii, and Venezuela. His favorite place was the Caribbean –" it was just so beautiful" he recounted.  Leo also maintained his love for football and enjoyed cheering for the Patriots as well as his beloved Bruins.
Leo had a great life. His wife and family where number one. He fixed a lot of things and helped a lot of people. His proudest accomplishment was raising five kids to be holy people. His Roman Catholic faith was a great source of strength and peace for him over his lifetime. He was just so proud that he  was able to raise his children right – you know it's really not an easy thing to do these days! He would like to be remembered as a hard worker, a servant, and a loving husband and father.
Leo was the beloved husband of Helen (Karpowich) Bibinski. Devoted father of Carol B. Wells and her husband John of Weston, MA; Paul J. Bibinski and his wife Laurie of Palmyra, PA; Elaine M. Cattel and her husband Jim of Leland, NC; Joseph L. Bibinski and his wife Janet of Westford, MA; and John R. Bibinski and his wife Kathryn of Marlborough, MA.  Also survived by 11 grandchildren – Dennis Cattel and his wife Margaret of Wilmington, NC, Greg Cattel of New York City, Mary Wells of Boston, Thomas Wells of Portland, ME, Stephen Bibinski of Pepperel, Michael Bibinski of Ventura, CA, Susan and Katie Bibinski of Palmyra, PA, and Christina, Diana and Melissa Bibinski of Marlborough.
A Mass of Christian Burial will be celebrated in Saint  Gregory's Church, 2215 Dorchester Avenue, Dorchester, Wednesday, May 30, at 10:00AM  Visiting hours at Dolan Funeral Home, 1140 Washington Street, DORCHESTER LOWER MILLS, Tuesday, 4-8 pm. Interment Blue Hill Cemetery, Braintree.
Veteran of W.W. II and US Air Force Korea. "The Greatest Generation!"
In  lieu of flowers donations in Leo's memory may be sent to The Sisters of Our Lady of Mercy, 241 Neponset Avenue, Dorchester, MA 02122, or http://www.sisterfaustina.org.