John Walter Barrett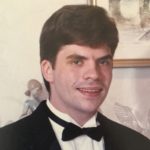 John Walter Barrett, of Cambridge, formerly of Milton, May 6, 2018.
Born in Boston and raised in Milton, John was a graduate of BC High and Harvard University, Class of 2007. He had pursued a Masters degree in biochemistry at Tulane University.
John enjoyed photography and computer programming. He had finished the Walt Disney World Marathon in 2007.
Son of the late Robert E. and Barbara (Maguire) Barrett. Father of Dawn M. Barrett of Long Beach, NY. Brother of Robert Barrett of Wakefield and Barbara B. Daly of Holliston. Uncle of Jane Daly, Colin Daly, Aidan Daly and Maura Barrett.
A Mass of Christian Burial will be celebrated in Saint Gregory Church, 2223 Dorchester Avenue, Dorchester, Wednesday May 23 at 10:00 AM. Relatives and friends invited. Visiting hour at Dolan Funeral Home, 460 Granite Avenue, EAST MILTON SQUARE, Wednesday 8:30-9:30 am. Interment to follow at Milton Cemetery.
In lieu of flowers, donations in John's memory may be made to https://nami-cambridgemiddlesex.org/donate_now/