David Isom, Sr.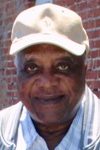 David Isom, Sr. peacefully entered into his eternal rest on May 12, 2018 at Brigham and Woman's Hospital surrounded by his loving family.
David was born in Camden, Alabama on October 26, 1936 to the late Liddell Isom, Sr. and Johnnie Mae Isom. He attended Camden Academy High School and Tuskegee Institute, majoring in engineering.
He was the devoted husband of 61 years to Louise Isom, the love of his life whom he met as a kid. After years of going to school together and graduating together the relationship blossomed. They married in 1957, having four children together – David Jr., Carole, Gloria and Donald.
David was a well-respected gentleman and a gentle giant, having a warm and kind heart. He would catch you off guard, as he was quite humorous and would unexpectedly tell or play a joke leaving you in stitches.
He would lend a helping hand to family, friends and strangers. He was a "fixer." He could find a solution to fix anything. If he couldn't fix it immediately, he'd spend the day thinking about it until he "created" a solution.
He not only took care of things but took care of his family. His family was his pride and joy. He was our great protector and provider making sure we had everything we needed, whether it was physical or emotional.
As an avid reader, he was well-versed on many topics and was often sought after due to his breadth of knowledge. In his spare time, he loved to fish off boats and piers. He was a lifelong learner, planning to teach real estate courses online this summer.
David retired from the MBTA after more than 25 years of service. He remained a licensed Real Estate Broker and certified Notary Public until his passing.
A Tribute to My Wonderful Husband of 61 years, David Isom Sr.
My husband was 81 years old. He was a great and loving husband. He had it all. He was a father, grandfather and great grandfather. He was kind, gentle and loved by everyone he met.
He and I grew up together as children. We did things that kids do; for example, on Easter we would hide Easter eggs. We would go to the movies and kiss behind my parents back whenever we could because our parents were always watching us.
We went to high school and college together. After a while, we realized we were so much in love that we decided to elope from college and get married. We then decided to start our family and had four wonderful children.
David and I were so happy; he told everyone he met about us and our family. His face would light up with a big smile. Our family was the apple of his eyes. He was always proud of us.
David worked very hard and never once complained. I remember when he began to get sick or wasn't feeling well and I had to put the trash out for the garbage man. Of course, I never had to do that before because, well, that was always his job. He said to me, "I'm sorry that you have to do that but I don't feel too well and maybe next week I will be feeling okay and do it." The next week came and the same thing happened. He said, "Sorry," I would say, "Honey, I don't mind doing it." But, honestly, I did mind doing it until one day my first granddaughter called me and I told her about what I had to do every Monday morning. In fact, I was complaining about it. She said, "Grandma, what is wrong with you? Grandad did that for years and years and didn't complain; now you are complaining about putting the trash on the sidewalk once a week?" You know, I felt so bad that I had been complaining. After the next Monday I began to look forward to doing that every week.
My husband had numerous jobs during our 61 years of marriage. He was a machinist, bus driver, train conductor, security officer, real estate broker, Notary Public and more. He did whatever he had to do for our family and never complained. We had a loving family and we both loved our family very much.
Then after a while David began to get sick. He went to see the doctor and found out he had a heart problem and high blood pressure, but still didn't complain. He said he was getting old and for me not to worry because things would be okay. But, things began to get worse and he began to tell me he didn't think he was going to get any better and that he would pass away. Last week, while in the hospital, he told my daughter and me that he was tired and that he was not coming back home. He began to plan his funeral as my daughter and I listened. She and I looked at each other were both very sad as we listened to him.
My husband told the doctor and nurses that he wasn't afraid to die, that he knew things could happen, that everything was in God's hands. Days before things got bad, he told me that he knew how I felt, just by looking at my face. He told me not to cry because he would always love me and that God would handle things for us both.
During the time that he was sick in the hospital, I told the chaplain that I had asked God to heal my husband and please let him come back home. I told the chaplain that I was losing my faith. He just looked at me, never saying a word because he knew something I did not know. He knew that God was straightening things out for me and God did do that. After, so many good things began to happen to me, well, guess what? I prayed to God to thank Him and let Him now that I had found my hope and faith and would never lose it again.
You see, at one time after I was beginning to lose my faith in God and after I began to pray about my faith, God made wonderful changes in my life. He made changes to let me know that He, not me, was in charge and that I wasn't going to lose my faith. Three things happened. After those three things happened, I realized that even though my husband didn't come home, he could have died many times before he did; but, God showed me things just to let me know that he was still with me and that I should have faith in Him.
So, on May 12, 2018, my husband passed away and I was standing by his side. And, even though my husband told me not to cry, I did cry. I cried today, and I am sure I will cry tomorrow. But, now I have my faith in God and He promised He won't let me down. My 61 years, my life is still holding. Thanks be to God.
Louise R. Isom
Family and Friends invited to David's funeral service, taking place in the Dolan Funeral Home, 460 Granite Ave., EAST  MILTON SQUARE,  Saturday, May 19,  at 11 o'clock. Visitation from 10 – 11 am. Interment to follow in Forest Hills Cemetery, Boston.