Olive Angela (Miller) Lai Choy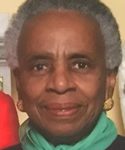 Olive Angela (Miller) Lai Choy, of Jacksonville, FL and Mattapan, passed away April 2, 2018.
Devoted wife of the late Hinson Lai Choy. Loving mother of Indra Choon of FL and beloved grandmother to Melissa Resil of Washington D. C.. Sister of Aldwin and Alfred and the late Josephine, Dorothy, Ivy Eno and Murica.  Olive is survived by several nieces and nephews..
A Mass of Christian Burial will be celebrated in Saint Gregory Church, 2223 Dorchester Avenue, Dorchester, Saturday, April 7 at 10:00 AM.  Relatives and friends invited.  Interment New Calvary Cemetery.