Kenneth A. Stevens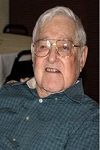 Papa – known for his handiwork
Stevens, Kenneth A., aged 90, was born in Milton, raised in Dorchester, and made his home in Milton for 65 years.
He served in the Coast Guard in World War II. He passed away peacefully on March 24 surrounded by family. Beloved husband of Barbara A. (Lord) Stevens. Son of the late Aston and Agnes Stevens. Devoted father of Karen Brazell and her husband Daniel of FL, Joanne Lane and her husband Patrick of VA, Lynne Lawless and her late husband Mark of Westwood, Susan Newman and her husband James of Walpole, Kimberly Papirio and her husband John of Walpole and Kenneth Stevens II and his wife Karen of Norwood. Brother of Robert Stevens of NH, Alice Knickerbocker of Worthington, Muriel Conway of Holbrook, Dorothy Corridan of Weymouth, and the late Constance Gange. Also survived by 13 grandchildren and 1 late granddaughter and 9 great-grandchildren.
"I used to climb steeples, ya know" was a phrase heard often when Ken (or "Papa" as his grandchildren and great-grandchildren knew him), told stories of his days as a builder repairing churches and constructing houses. He was carpenter by trade, he built his family's home on Dexter Street, driving every nail with his own two hands. Ken was a master craftsman at the lathe even after he went legally blind. There is no doubt, his stories will be retold for generations every time someone turns over a lathe-turned wooden bowl in their hands and finds the signature "KS" stamp. He was a builder of many things – the greatest of which was the legacy of his family. That legacy he built will live on in stories, sayings, jokes, and wooden bowls; but most of all in how he taught three generations to live, with character, integrity, humility, and value of family. His most valuable work carries the "KS" stamp in who he taught them to be, and how he taught them to love – because of this he was a very rich man.
Funeral Service at St. Michael's Episcopal Church, 112 Randolph Ave., Milton, Wednesday, March 28, at 11 o'clock. Visiting Hours in the Dolan Funeral Home, 460 Granite Ave, East Milton Square, Tuesday 4-7pm. Interment Milton Cemetery.
In lieu of flowers, donations can be made in Ken's memory to Young Life Boston South-West, 314 North St, Walpole, MA 02081 or Seasons Hospice Foundation, 8537 Solutions Center. Chicago, IL 60677-8005.