Maria DaGraca Rodrigues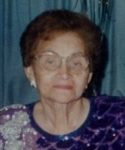 Maria (DoCanto) DaGraca Rodrigues, passed away Tuesday, February 13, 2018.
Beloved wife of the late Victor Rodrigues Tavares. Loving mother of Nicolau Tavares, Venceslau Tavares, Peter Rodrigues, Zita Scippa, and Vicky Rodrigues. Sister of Laurinda Alves, Ludovina Monteiro, Justiniano DoCanto, and  Licinio DoCanto. She also leaves behind 16 grandchildren and 18 great grandchildren. She was preceded in death by her two children Luisa Edwards and Marcos Tavares.
A Mass of Christian Burial will be held in Saint Agatha Church, 432 Adams Street, Milton Saturday, February 17 at 10:00 AM. Visiting hours at the Dolan Funeral Home, 460 Granite Avenue, EAST MILTON SQUARE, Friday 5-9PM. Interment Forest Hills Cemetery. Relatives and friends invited.