Kettlie Laguerre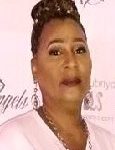 My mother Kettlie Laguerre, age 52, passed away on Sunday, February 12, 2018 at 12:30 AM at Readville Street, Hyde Park, MA 02136.
She was born August 13, 1965, in Port-Au-Prince, Haiti to Marie Lucy Denise Registe and Roger Laguerre.  Finishing school in 1993, Kettlie married Jean Nicaisse Alexandre on July 27, 2000 in Haiti.  She worked as a CNA Caregiver at Highgate Manor and Ellis Nursing Home, providing medical care to elderlies.  Kettlie lived life with pleasure enjoying the smallest things offered, like a shopping ride to Allston Brighton while filled with laughter and excitement.  Spending time with her grandkids on regular basis and cooking meals that would never allow people to stop eating.
Kettlie's positive ways always made an impact on her children and others.  She never said no to anyone, for any reason, she was always fashionable.  She spent money on people like there were no limits, because making a difference to her was the purpose.  Kettlie leaves behind 4 children: Junie, Medjine, Abdel and Nickensia, her husband, mother, 4 sisters, 7 brothers, 10 grandkids, dozens of niece's and nephews, uncles, cousins and so many other people whose lives Kettlie touched during her presence.
A Mass of Christian Burial will be held Saturday, February 24, at St. Angela's Church, MATTAPAN,  pat 10 o'clock. Visiting Hours in the Dolan Funeral Home, 1140 Washington St., DORCHESTER, Friday, 4-8 pm. Interment Fairview Cemetery, Hyde Park.